NATURE INSPIRED
TECHNOLOGY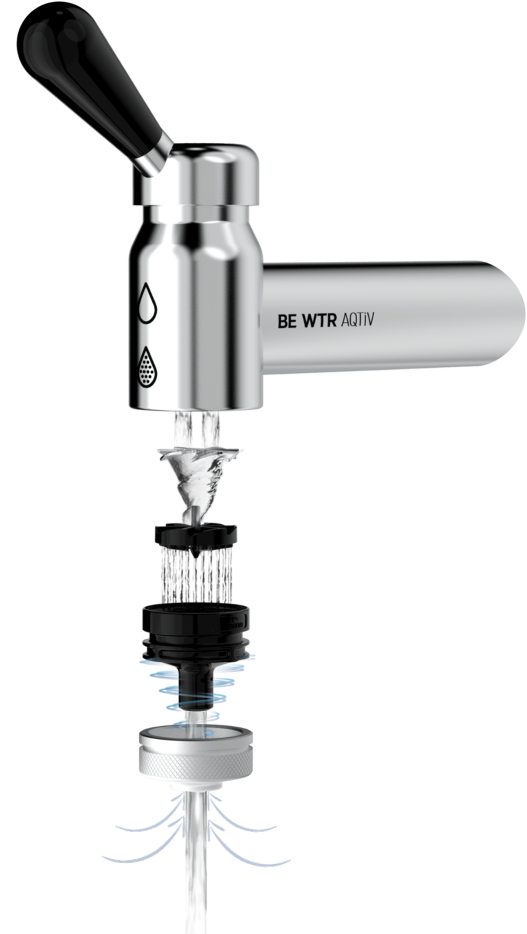 SWISS DESIGN
PATENT PENDING TECHNOLOGY
Innovative systems for home & professional use
Prepared by our high performant filter and under-the-counter system, we ensure the highest water quality and taste.
Inspired by Nature
BE WTR AQTiV™'s circular design is inspired by the circular lifecycle of water itself.
Swiss Patented AQTiV technology
Through an innovative system that combines a vortex mechanism with 18 micro-jets for optimal water aeration, and an annular air protection around the nozzle's extremity, water flows with accelerated movement. This results in improved aeration and oxygenation, reminiscent of water's natural state when it gushes fresh from its source and meets the air.
The result is a great-tasting, smooth, chilled, still & sparkling water on-demand.
Experience
the new
water taste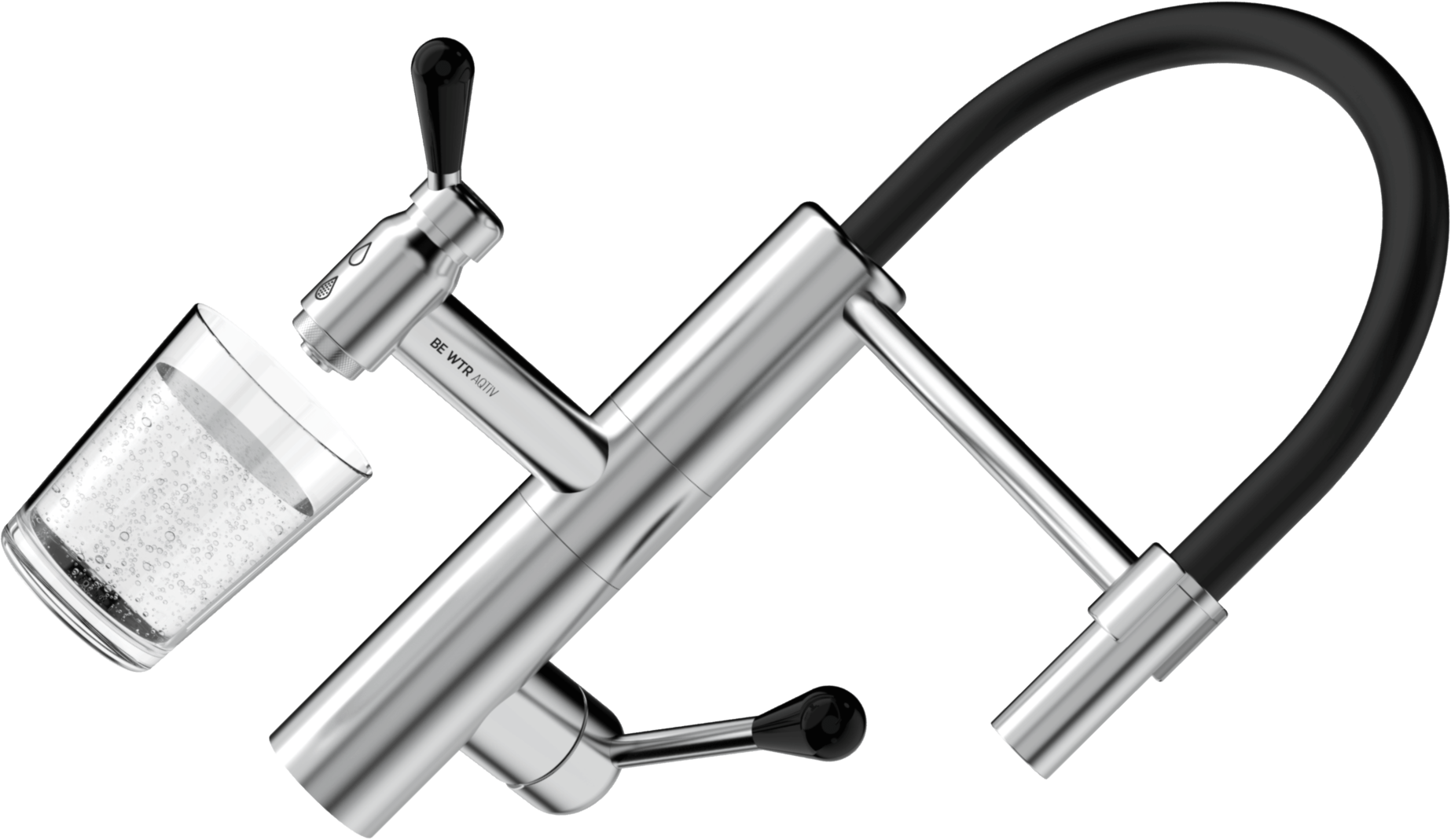 Designed in collaboration with iconic Swiss industrial designer, Antoine Cahen.
The BE WTR patented lever dispenses both still and sparkling water in a single, simple gesture.

Elegant, timeless and made to last, BE WTR systems are suitable for state-of-the-art homes, restaurants and working environments.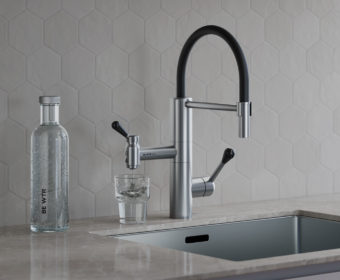 UNIQUE
GESTURE
The AQTiV™ COMBI, equipped with dual water outlets, seamlessly integrates behind your sink, replacing the existing tap. Its sleek, minimalist design allows for simultaneous dispensing of BE WTR AQTiV™ water and regular unfiltered water through two separate nozzles.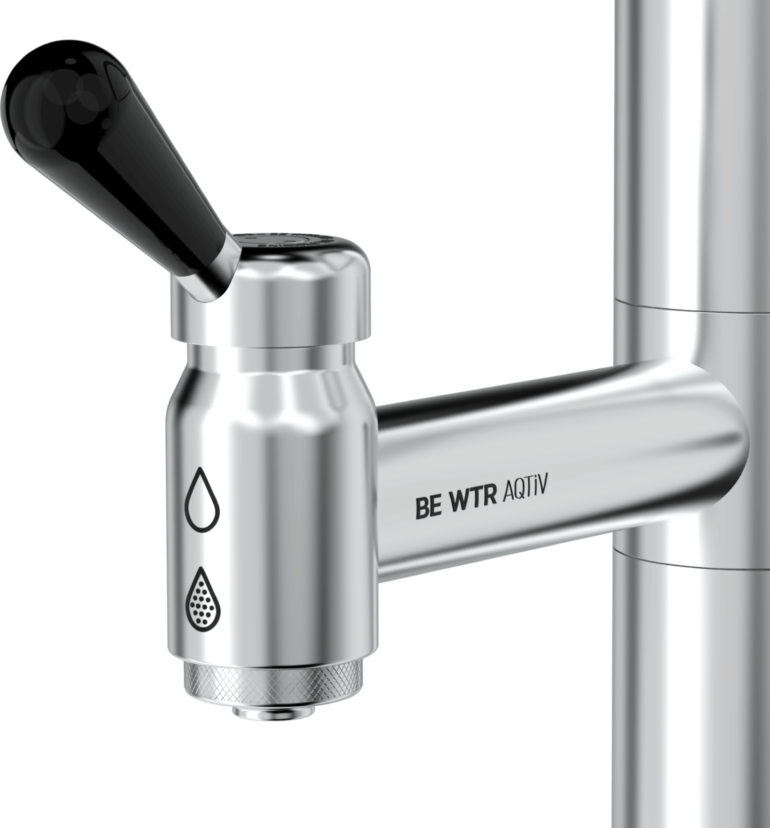 BE WTR AQTiV™ is the fruit of three years of development, working in multidisciplinary teams and bringing together mechanical engineers, designers, faucet and material experts, sensorial taste experts, chefs and sommeliers.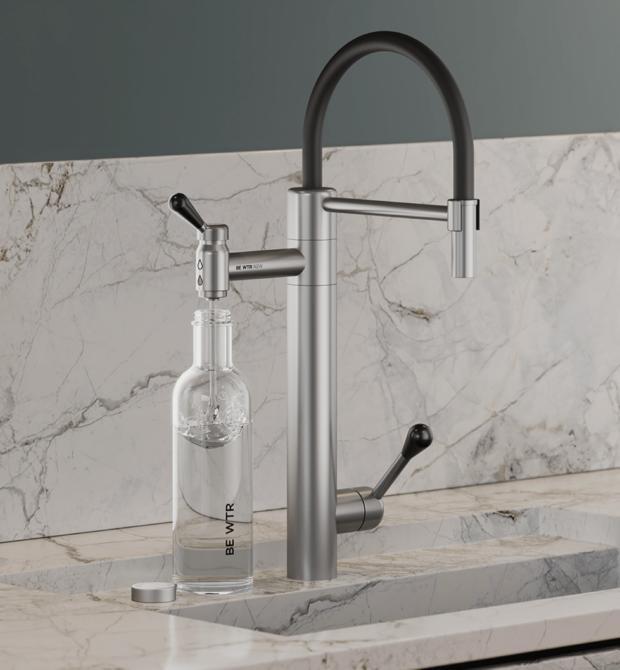 Key information
Type of water

Filtered fresh, still and sparkling, non filtered hot and cold water

Cooling capacity

Standard 15 l/h

Chilled temperature

From 2° to 10°C

Dispensed height Regular

10,4 (Width) x 42,6 (height) x 34,4 (depth) cm

Dispensing height High

10,4 (Width) x 55 (height) x 34,4 (depth) cm

Under-counter unit dimension

240 (Width) x 420 (Height) x 398 (Depth) mm

Max. Power consumption

230 W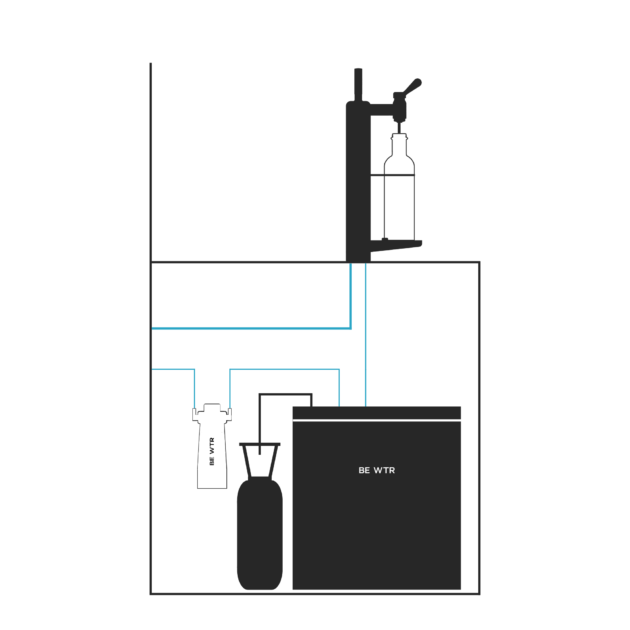 A PERFORMANT UNDER THE COUNTER SYSTEM
To ensure the highest water quality and taste, our systems come with under-the-counter units.
First, we filter your local water with the most adapted and technological filtration system, regardless of your region and its water quality; then the BE Box, chills, and the gas bottle carbonizes the water, producing on-demand chill and sparkling water.
BE WTR BTTLS
BE WTR BTTLS
Made in Italy the new glass BTTL has an innovative design with a bigger neck for optimal filling and cleaning. Available with dedicated lids for still or sparkling water. Capacities: 50cl & 75cl.

Perfect to switch your in-room & conference room plastic bottles, the new BTTL CAP are made in Italy. With a bigger neck for optimal filing and cleaning, the glass bottles have dedicated recyclable aluminium caps for still or sparkling water. Capacities: 50cl & 75cl.
Unlimited filtered, chilled, still, or sparkling water in one easy step. Our taps are style statements, keeping you hydrated while protecting the planet.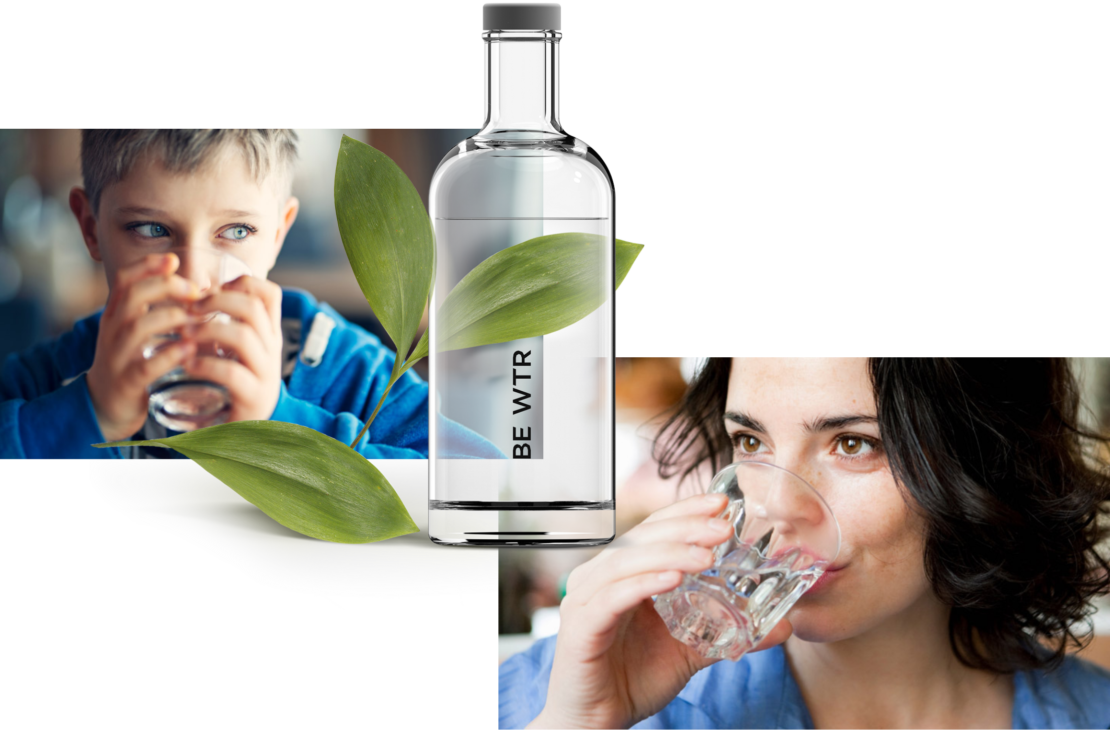 WANT US TO CONTACT YOU?
Let us know your questions and we will contact you soon!